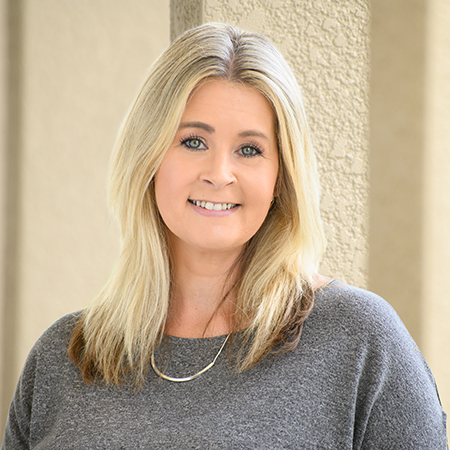 My name is Karey May and I am a clinical student intern with Liberty University. From my personal life experience, I understand the value of being heard, as well as having someone sit with you while you navigate the path through some of life's most difficult moments.
As a therapist, I value a balance of empathy and encouragement. I endeavor to help my clients identify strengths they may be unaware of that may result from their life experiences. I help my clients explore how family and past relationships may influence their worldview and current relationships, and whether those influences are helpful or less helpful to them now. I value diverse identities and believe each individual has inherent dignity, worthy of appreciation and celebration.
My approach to therapy is strengths-based and collaborative, working with others to find optimal solutions to improving functioning and well-being. I believe our environment shapes our identities, thoughts, feelings, and behaviors, and should always be considered when discussing how to manage best and overcome the challenges we face. I also aim to provide strategies for managing stress, communicating effectively, challenging avoidance, and building self-compassion.
Karey is dominant in type 9, which is sometimes called the Peacemaker. She uses her "superpowers" of being encouraging and supportive to help individuals restore balance and harmony in their lives.
Ready to Schedule an Appointment for testing or therapy?
We know how difficult it can be to take the first step to ask for help. You also may have questions! Our team of mental health professionals are available to help you through this process. Call today and we will get you scheduled with one of our therapists or testing psychologists. If you have questions before you begin, we're here to answer questions about therapy, testing, our counselors, or anything else. Please fill out the form below and we'll be in touch with you soon!
Contact Us Today! Click here to fill out our contact form >>
Other Mental Health Services at Sheltering Oaks Counseling
Your family may need help in more than one way. At Sheltering Oaks Counseling, we want to meet the mental health needs of every member of your family. Therefore, we offer a number of  mental health services at our Wesley Chapel, FL based therapy clinic.  For example, our therapists offer Christian counseling, counseling for young adults, therapy for cancer survivors and trauma therapy. We also have marriage counseling, family therapy, play therapy, and counseling for ministers. Not only can we help you in our Tampa area counseling offices, but we can also work with you anywhere in the state with online therapy in Florida.
Additionally, we offer several types of testing services, including neuropsychological testing, ADHD testing, psychoeducational evaluation, Gifted testing, and more. Finally, our specialty services for veterans and parents as IEP advocates can help you too! We would love to connect when you are ready to reach out.
3717 Turman Loop Suite 101, Wesley Chapel, FL 33544